Gold Leaf
The Art of Gold Leaf Signs
Why Gold Leaf? When the requirement of the sign, motor vehicle, building or any items is aimed to be seen as prestigious, then there is nothing that conveyers elegance, grace, sophistication, beauty and style than a highlight of 23-carat gold leaf application. Gold Leaf 23 carat is the affordable addition to any sign budget – while speaking louder than words.
23-carat pure gold is the ultimate long term product to enhance your sign and building project identification.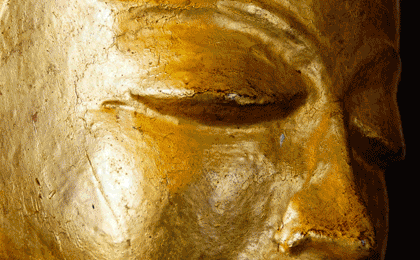 Gold to last a lifetime…as far as humanity knows, gold leaf dates back to the Egyptians. It was used to adorn sculptures and coated the rooms of the pharaoh's tombs with lavish gilding and transfer gold leaf applications. In Greece, also decorated accents of statues, lettering and embellished architectural features. While in Japan, the gold leaf had been used to decorate buildings and paintings.
Gold and Silver leaf applications include:
Transfer gold – The gild craftsperson has many options when the clients require that exceptional look and appeal to their sign, logo or branding project. The process involves gold size to be applied typically as paint or signwritten form. After drying to a suitable tack point, the transfer gold leaf is pressed into the gold size. After burnishing or dusting off the excess, the gold leaf sign developed a beautiful lustre to last potentially for many decades.
Loose-leaf gold - Taught to signwriting apprentices for many decades, the craft of gilding uses loose leaf gold or silver, lighting placed onto the reverse sign of the glass ( working backwards) to form logos, national crests, symbols, lettering and any design.
There are many other types of beaten leaf, including Sliver and Aluminium leaf, Variegated leaf and lower cost substitute Faux Leaf.
Finished applications
There is almost an unlimited range of uses for any of the Gold or Silver leaf products. The critical distinction in GOLD is its resistance to deterioration after long term exposure to wide and varied services. The degree of tarnish is negligible in Gold. In contrast, Silver and Aluminium leaves can be prone to a degree of deterioration or tarnish over time, dependent on location and local conditions.
The skills of MG Signs owner Michael George as a professional Gold leaf artist is to embellish the sign, display, honour board, building architecture, craved signage or sculptures. Mick takes a personalised approach and loves working with clients to achieve their dreams. Whether it is gold, silver, or any of the materials offered in the leaf application arts. Mick is there to guide you to the correct choice. Contact Mick now – see the form at the bottom of the page.
Why not explore the wonderful world of Gold Leaf for your next project
Glass Gilding – One of the more commonly seen is glasswork. Gold or silver leaf can be applied to any glass surface, offering an elegant, durable and stunning effect. Due to the tarnish-free nature of 23-carat gold as its golden and shimmering lustre has endless and classic appeal to all. The cornerstone of hallmark designs is Gold Leaf, and as a statement piece of art, rather than 'just a sign", the glimmer of gold has broad appeal.

Glass Memorial Panels
Internal and external Glazing structures
Internal Directory wall plaques

Honour Boards – this is the traditional method of hand letter names onto boards by using 23-carat gold leaf transfer; this classic lettering style cannot be replicated by computer-generated lettering.
3D Hand Carved Sign– customised carved signs, choose your style, shape, colour and size.
Architectural Embellishments – take any city and country anywhere globally and look up in the city and urban landscape. You will witness the wonder of gold, from large scale sculptures to the simple enhancement of a gilded flag pole topper. The 'Truck' is the term for the finial — or ball that finishes the flag pole respectfully with a simple act of applying for Gold Leaf transfer.
Sculptures and landmarks – With the application of 23-carat Gold Leaf to a bland stone or cast metal, literally change the item to a glistening landmark. They are greatly enhancing the appeal, prestige and recollection to the audience.
Marine Applications – The small addition to a Gilded name on the transom of a mighty ship or small pleasure boat add the undeniable touch of class. We have lettered classic wooden boats and vessels to tiny rowboats.
Prestige vehicles, Exotic cars and Motorbikes – the best vehicles worldwide have been adored with Gold Plated components. When can see the Rolls Royce Spirit of Ecstasy lady adorning the bonnets of the motoring marque since 1909. May hundreds of the bonnet mascots are in Gold or silver. They speak that statement of Gold is Best.
Hot Rods, Racecars and special vehicles – nothing adds the final touch like a flourish of gold leaf. A drivers name, the vehicle brand or adornment is the cherry on the top.
Memorials and Name Plaques – Gold leaf extraordinary lifespan pays homage and respect to the people listed. While honouring their remembrance with this elegant and meaningful listing of their name, service, passing or other.
Specialist Items – the very nature of the transfer or loose leaf gilding process offer an endless opportunity to turn a lack-lustre object into a landmark.
Let's talk… Please call Mick direct or fill in our online form; we can help with any project. Download our Gold Leaf Brochure to find out more.