Window Graphics
Decoration with privacy & security
MG Signs outperforms others for service, value and product range. We use state-of-the-art digital printing equipment ensuring your printing is sharp and vibrant. We can supply window signage and graphics decoration offering privacy and security to your windows. The picture-perfect way to feature your business including your products, services, promotions and even list your operating hours.
Our professional team of signs and window graphic installers provide an on-site installation service with a guaranteed finish, or you may opt for DIY option. We can provide a full installation kit with instructions and will even supply a sample piece of window frosting film for you to test.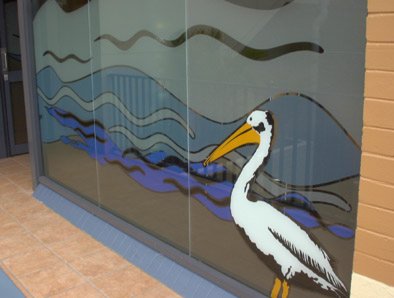 Great window graphics can be removed when required without damage to the glass. Glass coatings bring a variety of specialty effects to the look and feel of your signage.
We can offer full colour, adhesive to reusable to solid to clear graphics and even full colour on one side with see-through visibility on the other.
A variety of colours and images can be used including
Etch Sandblast / Crystal Etch – This vinyl provides the look of etched or crystal glass and can be used as a decoration or feature of your company logo and branding. The classic etched glass look gives an air of style and class.
Window Graphics – Use the promotional value of your window; bring it to life by applying creative images and graphics, enticing visitors to your company. One of the most popular digital solutions is direct printing in reverse (or mirror print) onto clear self adhesive vinyl and then applying this film to the inside of the glass